Skip to content

Artist and Filmmaker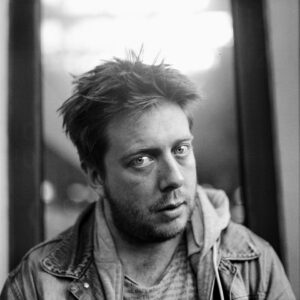 Born and raised in a small town on the Romney Marsh, on the wind swept desolate coast of South East England, Ewan has always been equally preoccupied by the uncanny, the macabre, the absurd, as with the delicate, the graceful and the transcendent.
After graduation in Media Production, Ewan's interests have been broad, learning his craft as a filmmaker through a series of short films, music videos, experimental documentaries and video art. His work has often focused on attempting to create a subjective sensation in the viewer, an immersive experience, working with the assumption that unusual insights and perspectives are possible in characters who are somehow at odds with mainstream society.
His work has been shown festivals in the UK and worldwide including the Bucharest International Experimental Film Festival, British Short Festival Berlin, Taipei Video Art Biennial, Festival Instants Video Numeriques et Poetique, Marseille, Athens Digital Arts Festival, CineGlobe Festival at CERN, Geneva, Szczecin European Film Festival, the ArtPlay Film Festival Moscow, the Blow Up Film Festival, in Chicago.
He also works as a film programmer for Strangelove Festival for Time-based Media in the UK. In 2017 and he graduated from the Le Fresnoy National School of Contemporary Art in France with a honour from the jury for renewing the language and imagination of cinema. He is currently studying the History and Philosophy of Art in Paris.
2016 - Winner
Best Experimental Film, ShortCut Cinefest Bucherest (Laughter Far Away)
2016 - Winner
Best Short Film Dorking Film Festival, UK (watch)
2015 - Nominé
pour les prix du Conseil de recherches en arts et sciences humaines, Bfi, London. (Watch)
MA History and Philosophy of Art - University of Kent (Paris) 2022
Le Fresnoy Studio National des Arts Contemporians 2015 -2017
BA Media Production University of Lincoln 2007
CIte International Des Arts, Paris, France, 2020
Offline Browser – The 6th Taiwan International Video Art Exhibition 2018
Panorama 19, Le Fresnoy Studio National Des Arts Contemporians 2017
Echo's Dunkerquoise, 2017. FRAC – Le Grand Large, Dunkirk
Panorama 18, Le Fresnoy Studio National Des Arts Contemporians 2016